Episode 5


Japanese Title
信じて待っていてくれ。 みんなとのデートに遅刻なんてするものか
Romanized Title
Shinjite matte ite kure. Minna to no dēto ni chikoku nante suru mono k
English Title
Please believe me while waiting. I won't be late on a date with everyone
Airdate
May 4, 2014
Theme Music
Opening
Cupi-Doo Revue by Aoi Yuuki
Ending
Kanojo ga Flag wo Tateru Riyuu by YELL
Chronology
Previous Episode
Episode 4
Next Episode
Episode 6
It's a holiday, so all the girls decide to go on dates with
Souta
. First up is
Meg
, then
Akane
, then
Rin
, and finally
Okiku
. So Souta spends the day getting to know his friends better, or catch up on old times with former friends (Rin and Okiku).
Nanami
, meanwhile, is smart enough to stay out of the whole mess and just spends the day messing around and napping.
That night,
Ruri
informs Souta that she's found a secret passage underneath the dorm that matches his vision.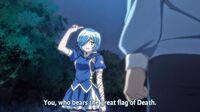 The two follow the passage to find a door, and beyond that door is a locked chest of some kind.  Suddenly, a bright light flashes through the cracks in the passage, apparently leading to the forest behind Quest Dormitory.  Souta follows it to find himself face to face with a strange new girl…
Ad blocker interference detected!
Wikia is a free-to-use site that makes money from advertising. We have a modified experience for viewers using ad blockers

Wikia is not accessible if you've made further modifications. Remove the custom ad blocker rule(s) and the page will load as expected.